ALS Association Pocketwatch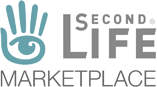 All proceeds benefit The ALS Association for ALS research and patient care.
Nothing matches the elegance of a pocketwatch, whether to go with your finest tuxedo, nattiest steampunk outfit, or simply a nice vest!
The ALS Pocketwatch comes as two attachments: a watch that (by default) attaches to your avatar's left hand and a fob chain that attaches to your stomach (and sports the ALS Association logo so you can show your support!). When you touch the watch, your avatar will draw the watch out (the fob chain will extend to the watch) and you can check the time! The case opens and shuts with a click, and the hands tell accurate time: the default is SLT, but you can set the watch to any time zone in the world.
The watch is fully configurable via scripted menus (you can choose between brass, silver, and gold versions of three cases, and there are four separate faces). There's also an alarm (it goes off whether the watch is visible or not—and can reach you anywhere on grid if you leave the watch rezzed somewhere). The watch even has time-checking animations for normal human avatars and bipedal tinies. Watch is copy+mod; script driving the watch is no-modify. The watch itself is 19 prims; the fob chain is 91.
Watch comes with a notecard that describes all features.
Features
Three case designs, each in brass, silver, and gold
Four antique watch faces
Accurate time display with moving hands
Support for SLT and a wide variety of timezones
Twelve-hour alarm
Fob chain and animation so your avatar can "check the time"
Animations work with normal human and bipedal "tinies"
Common Questions
Why isn't the pocketwatch mesh?!

It's old! I built the packetwatch before mesh was available in SL.

Why isn't my timezone in the list of available timezones?!

There are kerjillions of named timezones around the world, so the watch only offers named buttons for some common timezones for English-speaking SL users. But don't despair! You can set the watch to ANY timezone offset you like, both hours and minutes. Gotcha covered, New Delhi.